Whoever you are, wherever you're from, you are welcome here.
We are very passionate about our teens. This is a very difficult world we live in and our deepest hearts' desire is to train up and equip Antioch teenagers to stand strong and be witnesses in this world. Mighty young men and women are needed in our schools and neighborhoods in a desperate way. Our desire is that our teens will make their faith their own and not walk away from it in college. We believe this will happen if they are led to the living God and truly give themselves over to Him because he has overwhelmed their lives and has become their purpose in live.

A DIFFERENT WAY
Our Youth Ministry isn't just another cool activity to add to a busy schedule. It's a place for students to encounter God personally, build deep friendships, and live out Acts 2:42-47 community. When students are devoted to Jesus, they can make a big impact in their homes, schools, and other areas of influence. We are committed to equip students to follow Jesus, thrive in this season of their lives, and have a lasting impact on the world around them. Our desire is for our time together to be encouraging, purposeful, impactful, and a ton of fun!
Check Out Our Upcoming Events:
Join us for our current series on Thursday nights from 7:00 pm to 8:30 for a time of games, large group teaching, and small groups. You can join us on Zoom or jump on through our FB livestream.
Current Series:
What To Do When You Don't Know What To Do?
Sometimes knowing what to do is easy. When your car is running out of gas,
you get gas. When you hear that Kanye song, you sing along. But other times,
knowing what to do isn't as simple. Sometimes we find ourselves in situations
where we truly just don't know what to do. When your students don't know
what next step to take, why they're experiencing what they're experiencing, or
how to change their circumstances for the better, they get overwhelmed,
frustrated, and often, just ready to give up altogether. In this series, we're going
to look at the life of a guy in the Bible who often found himself in situations
where he just didn't know what to do: Joseph. And as we look at his life, we'll
help your students see just what they can do when they don't know what to do.
To Join Or Get More Information On Our Covid 19 Meeting Opportunities Please Fill Out This Form
Follow Antioch Wichita Youth: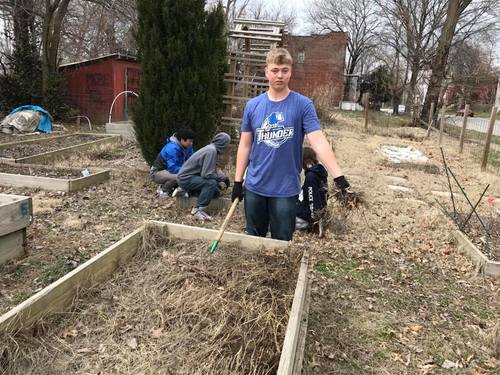 Antioch - Thursday at 7 p.m.
The Gathering is a worship service for the Antioch Youth that includes group games, worship, a message, and small group time. All middle and high school students are welcome.
Wednesday Evenings - 6:00 p.m.
On week nights, students are involved in House Churches by helping lead and teach kids during groups and also going through lessons and studies with other House Church members.
Java with Jimmy and Service Tuesday
2nd and 4th Tuesdays - 6:00 - 8:00 pm
This is a great evening out with our Youth Pastor, Jimmy Hutson. Come and get a cup of java or some ice cream and study the Bible or serve with your friends.
Antioch - 9 a.m. | 11 a.m.
Our students are an integral part of our Sunday morning services. Come worship with us and hear relevant messages that will apply to all ages.
Get Connected. Go Deeper.
At Antioch Youth, we feel that discipleship is the key to building strong, Christ-led teens. Our ministry goal is to pair a younger teen with an older high-school student in a discipleship relationship or team up a student with a discipling adult from the body of Antioch. This is life-on-life ministry where they are meeting together weekly and teaching our students to walk with Jesus as their Savior.
We would love to hear from you. Fill out the form below to get started.